We have been using the All About Reading Pre-Reading curriculum for just about 3 months. I started Shelby on Preschool and knew that the curriculum I was using was not all-inclusive. In my opinion, All About Reading has proven to be the perfect addition to our weekly routine.
And, we love Ziggy.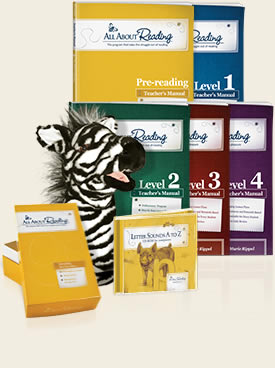 We are in the Pre-reading level of the All About Reading curriculum. There are going to be 5 levels (pre, and then 1-4) but levels 3-4 are not released yet. We picked All About Reading because it is a fun and engaging program that starts with essential pre-reading skills and continues on to teach all five key components of reading. It contains everything your student needs to become a fluent reader for life! (That last part is from the website, but I couldn't have said it better myself!)
Here is an overview of the actual materials you receive when purchasing the who kit: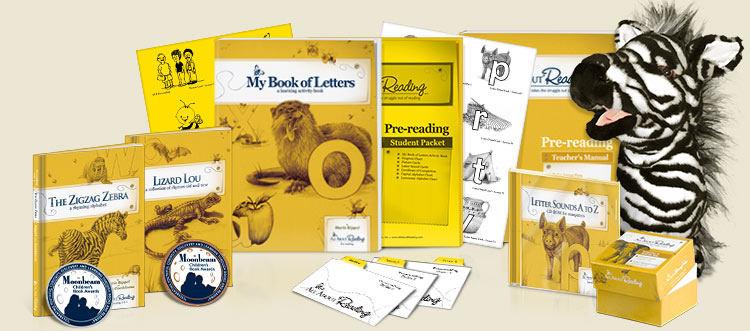 Do you see the Zebra there? That is Ziggy. Seriously, my girls are obsessed with Ziggy. Ziggy can present them with what appears to be a totally daunting task and they take it on with a totally happy heart. Shelby has her own make believe voice for him and everything! It was a very exciting day at our house when we received our package from All About Learning Press, watch as we explore! (Please note, this is my youngest opening the package, she isn't doing the program but always tags along when Ziggy is out to play!)

As I mentioned before, Shelby is 3 1/2. The program is recommended for children age 4. She doesn't fully grasp rhyming (yet) which is the main concept we have been going over thus far, but she loves trying! And at this age, all we are really shooting for is a love of learning. Well, thanks to All About Reading, she loves it!
I thought we may be too premature in launching the curriculum when we did, but as I have dug in I see that she is really hungry for it.
I have a hard time capturing great pictures of our learning time with All About Reading. We are very fast-paced and upbeat and dancing with Ziggy so I don't love stepping back to take pictures. But I do capture some and below, you will see Shelby is using Ziggy to find the rhyming words. The yellow cards are their picture cards and the white sheet of paper is out of the student handbook (it is a wagon).
"Ziggy, which word doesn't rhyme with the others?"
"Bee doesn't rhyme so get outta that wagon!"
Shelby then picks up the picture card, hands it to Ziggy who then hands to it me. A process that is not to be messed with!
Below, we are working on our picture cards (we do a lesson 1-2 times per week). First we make sure she knows what each picture is. Then we work on which pictures (words) rhyme. Like I said, she is a bit young for the concept of rhyming, but the curriculum states that, tells me not to rush it and says just teach and enjoy. That is what we do!

You can tell that matching with Ziggy is a favorite task, here we are doing it again…

There is much more to the curriculum than just the picture cards (though those are the best part in my opinion!). We also work on a letter with each unit. You first work through the upper case and then the lower case (two nice sized posters of an upper case and a lower case alphabet also come in the kit). Rather than line up with the unit I am working through in the curriculum, I line up the letter of the week activity with our Preschool unit. Below you can see we are working on L is for Llama. I use the student sheet for our letter of the week and I use the lessons and reading concepts for the All About Reading unit of the week. Works for us and doesn't mess with Shelby's routine! She decorated the heck out of this sheet. Yarn, buttons, glitter glue, you name it! They give craft activities for each activity. You don't have to be crafty and creative mama!

All About Reading, Pre-Reading will introduce the following concepts: 1. Letter knowledge (which we are introducing through our preschool curriculum, so this is reinforcing this which is wonderful!) 2. Phonological awareness (rhyming, syllables, beginning and ending sounds of words, etc). 3. Print awareness (the words on the page can be read!) 4. Listening comprehension (answering questions about a story, retelling story in own words, etc). 5. Motivation to read!
After reading this I am sure you can tell I highly recommend this program. It puts the fun in reading which is so important at this age and for a mom who loves to read (I pray they have the same love!). As a new homeschooling mama it is crucial that I have curriculum that shows me what I need to teach my child (the above skills) and also walks me through the process. It also just so happens to be an approach that Shelby thrives with. Please visit their website to learn more on your own. This curriculum definitely deserves your exploration! (My sister is using All About Reading Level 1 with her son and is so thrilled with the process, so my family can vouch for 2 of their programs!)
What is your reading curriculum of choice?
I was given the Deluxe package for the sake of the review but want to make clear I would have purchased it and believe the deluxe package is the way to go – it gives you Ziggy for one thing!! See our full disclosure here.

This post is happily shared with The Homeschool Village and Titus 2 Tuesday